ASTRO ELECTRONIC
Dipl.-Ing. Michael Koch
Raabestr. 43 D-37412 Herzberg Germany
Tel: +49 (0)5521 854265 Fax: +49 (0)5521 854266
www.astro-electronic.de e-mail

Das selbstgebaute Planetarium
The homemade Planetarium
Ein Planetarium besteht im wesentlichen aus zwei Teilen: Ein Projektor und eine Projektions-Kuppel.

Hier seht ihr die Kuppel die ich von Fa. Ott-Kunststoffe gekauft habe. Sie besteht aus 8mm Acrylglas und hat 150cm Durchmesser.
Außen ist noch ein 5cm breiter Flansch dran, den man für die Befestigung nutzen kann.


A planetarium does mainly consist of two parts:
A projector and a dome.

Here you see the dome which I bought from german company Ott-Kunststoffe. It's made of 8mm acrylic glass and has 150cm diameter.
At the edge it has a 5cm flange, which can be used for mounting the dome.



Die Kuppel wurde zunächst von beiden Seiten mit Sand gestrahlt, damit die Farbe besser hält.

Auf diesem Bild ist innen schon die erste Schicht weiße Farbe aufgesprüht, aber die Schicht hat noch nicht gedeckt. Es waren noch mehrere Schichten notwendig. Von außen wurde die Halbkugel schwarz gespritzt.


First the dome was sand blasted from both sides.

On this picture the first layer of white paint was already sprayed on the inner surface. But one layer wasn't enough, I had to spray on several more layers. From the outside the dome was painted black.




Hier ist die Kuppel schon fertig und hängt an der Decke. Der rote 12-eckige Ring besteht aus 15mm Industrie-Sperrholz. Er enthält 4 Trage-Griffe (links ist einer zu sehen) und die drei Aufhänge-Ösen.

Die Abmessungen der Kuppel habe ich so gewählt, das man sie durch normale Türen transportieren kann. Der Holzring ist 166cm breit und die gesamte Kuppel ist ca. 76cm hoch.

Man beachte die Verzierung mit den gelben Sternen, und das Fell des inzwischen ausgestorbenen sibirischen Groß-Hamsters.


Here the dome is already finished and is suspended at the ceiling. The red dodecagonal ring is made of 15mm plywood. If contains four handles (one is visible at the left) and three points for sustaining.
The dome's dimensions were choosen so that it can be transported through normal doors. The ring is 166cm wide and the whole dome is about 76cm high.

Please note the nice yellow stars and the fur of the sibirean giant hamster (extincted in the meantime).

So sieht's aus wenn man von unten in die Kuppel reinschaut.
Die Farbe ist matt-weiß. Das hat den Vorteil dass die Sterne schön hell leuchten, aber auch den Nachteil dass Videos mit hellen Bildern flau aussehen, weil das Licht innerhalb der Kuppel hin- und her reflektiert wird.
Für helle Videos wäre eine graue Projektionsfläche besser geeignet.


This is the viev into the dome from below. The color is matt white. This has the advantage that the stars appear bright, but also the disadvantage that bright videos appear weak, because the light is reflected multiple times inside the dome.
For bright videos a gray surface would be better.

Nun kommen wir zum Planetariums-Projektor.
Das Objektiv (links) ist ein altes 180° Projektions-Objektiv für 70mm Filmprojektoren.
Es wiegt fast 10kg. Die Bildebene liegt ca. 55mm hinter der letzten Linse, und das Bild hat ca. 66mm Durchmesser für 180° Bildwinkel.
Der Beamer ist ein Acer P7605 mit 1920x1200 Pixeln Auflösung. Er kann ein Bild mit 66mm Durchmesser in ca. 20cm Entfernung ohne zusätzliche Linsen erzeugen. Allerdings muss er dazu hinten etwas angekippt werden. Um das gesamte Licht in das Objektiv hineinzulenken war zusätzlich noch eine Feldlinse mit ca. 250mm Brennweite notwendig, die man hier im provisorischen Testaufbau sehen kann. Sie befindet sich nahe an der Bildebene und muss daher nicht achromatisch sein. Kritisch ist allerdings, dass man jedes Staubkorn auf der Feldlinse im Bild sehen kann.

Now let's show the projector. The objective (left side) is an old projection objective for 70mm film projectors. It weighs almost 10kg. The image plane is located about 55mm behind the rear lens, and the image has 66mm diameter for 180° field. The beamer is a ACER P7605 with 1920x1200 pixels resolution. It can project a 66mm image in about 20cm distance without any additional lenses. But it's required to tilt the projector a little bit at the rear. To get all the light into the projection objective, it was required to use an additional field lens with about 250mm focal length, which you can see here in a temporary test setup. The lens is near the image plane and must not be achromatic. But it should be very clean, because every grain of dust would be visible on the dome.

Der endgültige mechanische Aufbau sieht so aus, dass zwischen dem Beamer und der Feldlinse noch ein Umlenkspiegel eingefügt wurde.

Das Objektiv ist ein 26mm f/2.8 180° von der nicht mehr existierenden Firma Paragon Optics Inc.

Die Halbkugel hat eine Fläche von 3.53m2 und enthält 1.13 Millionen Pixel, die etwa 2mm groß sind.

Größenvergleich: Der rote Kasten hat eine Grundfläche von 20cm x 20cm.


The final mechanical setup contains a folding mirror between the beamer and the field lens.

The objective is a 26mm f/2.8 180° from Paragon Optics Inc., which is out of business.

The dome has 3.53 m2 surface and contains 1.13 millon pixels, which are about 2mm wide.

The red plywood housing has 20cm x 20cm base area.

(1) ist eine Gewindestange, mit der das Projektions-Objektiv in der Höhe verstellt werden kann, um den Bildwinkel im Bereich 175° - 185° anpassen zu können. Diese Verstellung ist notwendig, falls der Projektor nicht genau in der richtigen Höhe relativ zur Kuppel steht.
(2) ist ein Alu-Drehteil das die Feldlinse enthält.
(3) ist die Feldblende mit 67mm Durchmesser, um das Bildfeld auf etwas mehr als 180° zu begrenzen. Das Projektions-Objektiv könnte nämlich bis zu 10° nach unten abbilden (also insgesamt ca. 200° Bildwinkel), dann allerdings mit starkem Farbfehler.
(4) ist der Umlenkspiegel
(5) ist die Stellschraube zur Justierung des Kippwinkels
(6) ist die Stellschraube für die Justierung der Position des Umlenkspiegels.

Wenn alles justiert ist, wird das Gehäuse mit einem Deckel verschlossen, der für den Lichteintritt ein 50mm Loch hat.

(1) is a threaded rod for adjusting the height of the objective, so that the field angle can be adjusted from 175° to 185°. This adjustment is required if the projetor doesn't stand exactly in the correct height with respect to the dome.
(2) is an aluminium part which contains the field lens.
(3) is the 67mm field stop, which limits the field to a little more than 180°. It is required because the objective can project about 10° below the horizon (about 200° total field).
(4) is the folding mirror.
(5) is a screw for adjusting mirror's angle.
(6) is a screw for adjusting the mirror's position.

When everything is adjusted, the housing is closed with a lid which has a 50mm bore for the light entry.

Der Beamer steht in zwei Halterungen, die mit 3D-Drucker hergestellt wurden.


The beamer stands in two holders which were made by a 3D printer.

Und so sieht die Milchstraße aus wenn man unter der Kuppel liegt. Als kostenlose Software verwende ich Stellarium.
And this is the view of the milky way when you lie below the dome. As software I use Stellarium, which s free.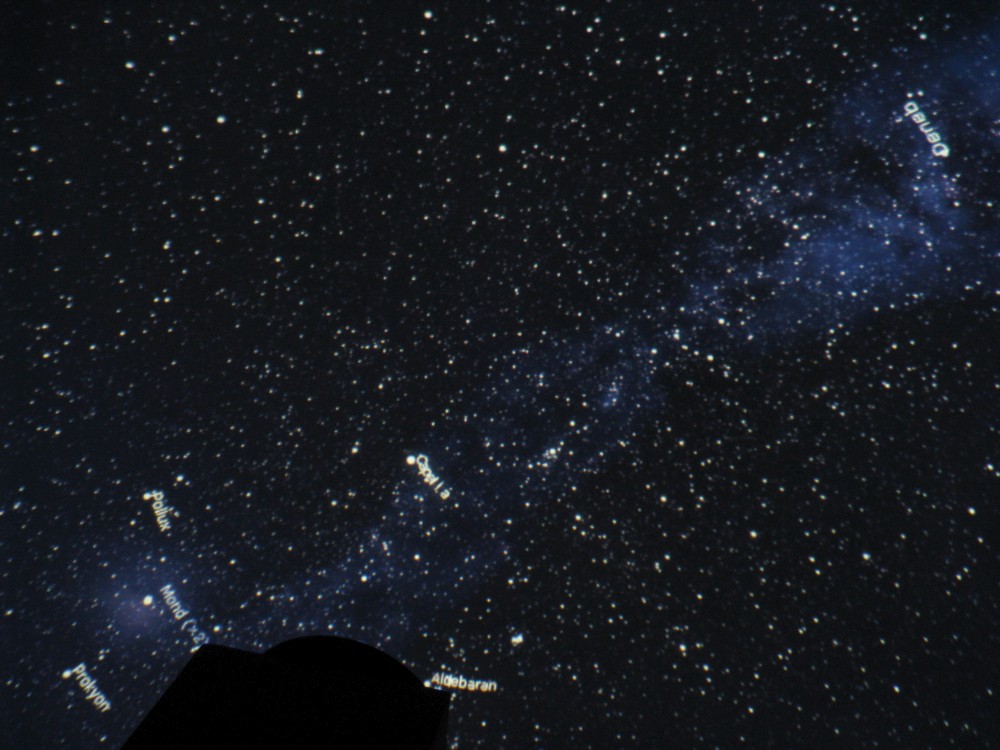 Danksagung:
Ich habe das nicht alles selber gemacht. Mein Dank geht an meinen Vater Gerhard, der die Holzteile hergestellt hat, an David Boches, der mir das Objektiv verkauft hat, an Jeff Bosby, der bei der Beschaffung des Objektivs behilflich war, an meinen Sohn Joshua, der beim Zusammenbau und beim Ausprobieren mitgeholfen hat, und an das gesamte Team der Stellarium Programmierer.
Credits:
I didn't make that all myself. Many thanks to my father Gerhard who made the plywood parts, to David Boches who sold me the objective, to Jeff Bosby who assisted in obtaining the objective, to my son Joshua who helped during assembling and testing, and to the the whole team of Stellarium software programmers.

---
Eigene Landschafts-Bilder in Stellarium
Es ist möglich, eigene Landschafts-Bilder in Stellarium einzubinden, d.h. Bilder, die den Horizont so zeigen wie er am eigenen Standort aussieht. Auf der Stellarium Webseite ist das hier beschrieben.
Man muss das nicht unbedingt mit einer Fisheye-Aufnahme machen. Es geht auch mit mehreren Einzelbildern in verschiedene Richtungen. Aber die Fisheye-Methode ist am einfachsten.
Für die Sternwarte St. Andreasberg haben wir mit einem Fisheye-Objektiv zwei Hintergrundbilder aufgenommen, im Sommer und im Winter. Die Bilder müssen im PNG Format vorliegen. Der Himmel muss einfarbig sein und diese Farbe muss als transparent definiert sein (das geht mit IrfanView). Die Einbindung in Stellarium funktioniert so:
Stellarium sollte nicht älter als Version 0.13.2 sein, sonst kann es Probleme geben. Man geht in das Verzeichnis C:/Programme/Stellarium/landscapes. Hier gibt es für alle bereits vorhandenen Landschaften jeweils einen Ordner. Es wird nun ein neuer Ordner mit dem Namen "St_Andreasberg_Sommer" angelegt. In diesen neuen Ordner werden zwei Dateien hineinkopiert: Das Bild St_Andreasberg_Sommer.png und die Datei "landscape.ini" wird mit einem Texteditor erzeugt und muss folgenden Text enthalten (per copy and paste von hier kopieren):

[landscape]
name = St_Andreasberg_Sommer
type = fisheye
author = Michael Koch
description = Public Observatory in St. Andreasberg, Harz Mountains, Germany
maptex = St_Andreasberg_Sommer.png
texturefov = 181
angle_rotatez = 180
tesselate_rows = 20
tesselate_cols = 40

[location]
planet = Earth
latitude = +51.731608
longitude = +10.526120
altitude = 700
light_pollution=2
atmospheric_extinction_coefficient=0.2
atmospheric_temperature=10
atmospheric_pressure=-1

Nun kann man Stellarium starten und in den Einstellungen die neue Landschaft auswählen.
Für die Winter-Landschaft wird das gleiche nochmal gemacht. Es wird ein neuer Ordner mit dem Namen "St_Andreasberg_Winter" angelegt. In diesen neuen Ordner werden zwei Dateien hineinkopiert: Das Bild St_Andreasberg_Winter.png und die Datei "landscape.ini" wird wieder mit einem Texteditor erzeugt. Bitte beachten dass sich drei Zeilen geändert haben: name, maptex, und angle_rotatez.


[landscape]
name = St_Andreasberg_Winter
type = fisheye
author = Michael Koch
description = Public Observatory in St. Andreasberg, Harz Mountains, Germany
maptex = St_Andreasberg_Winter.png
texturefov = 181
angle_rotatez = 0
tesselate_rows = 20
tesselate_cols = 40

[location]
planet = Earth
latitude = +51.731608
longitude = +10.526120
altitude = 700
light_pollution=2
atmospheric_extinction_coefficient=0.2
atmospheric_temperature=10
atmospheric_pressure=-1

---

Wie konfiguriert man Stellarium für die Fisheye-Projektion?
In der config.ini Datei müssen folgende Parameter geändert werden (dies bezieht sich auf die Version 0.15.1.1)
[astro]
flag_star_name = false
flag_surface_brightness_usage = false
milky_way_intensity = 1.2

[gui]
auto_hide_vertical_toolbar = false
flag_mouse_cursor_timeout = true
mouse_cursor_timeout = 4

[init_location]
landscape_name = St_Andreasberg_Sommer
location = 51.3829,10.3454

[landscape]
flag_fog = false

[navigation]
init_view_pos = -0.0004,-0.027,0.9996

[plugins_load_at_startup]
Exoplanets = false
FOV = false
MeteorShowers = false
Novae = false
Oculars = false
Satellites = false
SolarSystemEditor = false
TimeZoneConfiguration = false
TextUserInterface = true

[projection]
type = ProjectionFisheye

[tui]
flag_show_gravity_ui = true
flag_show_tui_datetime = true
tui_font_size = 18

[viewing]
flag_gravity_labels = true
moon_scale = 3

---
Link-Sammlung zum Thema:
Selbstbau von Planetarien: Selfmade planetariums:
http://www.domebase.org/building-the-mini-dome/fisheye-projection-lens
http://www.astrosurf.com/lhoumeau/planetariums/en/index.htm
Fisheye-Projektions-Objektive: Fisheye projection objectives:
http://www.navitar.com/projection/projection_overview.html
http://www.shtjx.cn/en/
Stellarium: Stellarium:
http://www.stellarium.org/wiki/index.php/Main_Page
http://www.stellarium.org/wiki/index.php/Fisheye_Projection_System
Nightshade: Nightshade:
http://www.nightshadesoftware.org/projects/nightshade
Halbkugeln aus verschiedenen Materialien: Domes made of different materials:
http://ott-kunststoffe.com/hauptnavigation/home/
http://www.fvk-dessau.de/
http://www.accentform.com/de/kunststoffverarbeitung/innenarchitektur/gfk-lampenschirme-19m/
http://www.accentform.com/kunststoffverarbeitung/gfk-kugeln-radome/gfk-kugelsortiment-06-40m/
http://www.hh-creativteam.de/deutsch/produkte/acryldisplays/verkaufsschuetten/00004.html
http://www.tsaiballs.de/
Yahoo Gruppe: Yahoo Group:
https://groups.yahoo.com/neo/groups/small_planetarium/conversations/messages
Fulldome Videos: Fulldome videos:
http://www.eso.org/public/videos/eso-jcmw/
http://www.eso.org/public/announcements/ann14051/
http://www.spacetelescope.org/videos/archive/category/dome/
http://www.lochnessproductions.com/shows/ida/ltd_downloads.html
http://cosmoquest.org/x/scienceonthehalfsphere/mauna-kea-timelapses/
http://skyskan.com/shows/
http://thefulldomeblog.com/
http://www.ips-planetarium.org/?page=fulldomemasters
http://www.fulldomevideos.com/free-fulldome-video-download