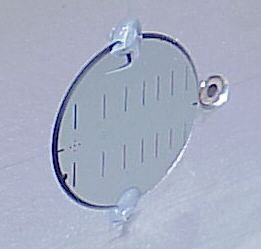 Dieses Bild zeigt die Point Diffraction Platte, die von Martti Koskimo entwickelt wurde.
Es ist eine Quarzglas-Platte mit 20mm Durchmesser und 2mm Dicke, die auf der Vorderseite mit einer Chromschicht bedampft ist. Diese Schicht hat ca. 1.8% Transmission bei 650nm und enthält Gruppen von jeweils 5 Löchern in den folgenden Durchmessern: 2µm, 5µm, 10µm, 20µm, 50µm, 100µm, 200µm
Die grössten Löcher sieht man sogar in diesem Bild. Innerhalb eine Gruppe haben die Löcher 0.25mm Abstand, bzw. 0.6mm bei den 200µm Löchern.
Oben und unten sind noch Markierungslinien in der Chromschicht, damit man die kleinen Löcher besser findet. Man braucht zwar nur ein Loch von jeder Grösse, aber es ist sinnvoll ein paar Ersatzlöcher zu haben, falls mal ein Loch unbrauchbar wird wenn ein Staubkorn draufliegt.
Die PDI Platte ist mit zwei Tropfen Silikonkleber an der Montageplatte befestigt.
Rechts sieht man die Laserdiode, die in möglichst geringem Abstand zur PDI Platte angebracht wird, um Off-Axis Fehler zu minimieren. Es ist eine rote Laserdiode ohne Optik, die den zu testenden Spiegel gleichmässig ausleuchtet.
Welches Loch verwendet werden muss, hängt vom Öffnungsverhältnis des Lichtkegels ab (nicht vom Öffnungsverhältnis des zu testenden Spiegels). Der Durchmesser des Loches muss kleiner sein als das Beugungsscheibchen: D < 2.44 lambda N
mit lambda = Wellenlänge des Lichts (hier 650nm), und N = Öffnungsverhältnis des Lichtkegels
Die gleiche Formel gilt auch für die maximal zulässige Grösse der Lichtquelle.
This picture shows the point diffraction plate, which was designed by Martti Koskimo.
It's a fused silica plate with 20mm diameter and 2mm thickness, which is coated with a thin Chrome layer on the front surface. The transmittance is about 1.8% at 650nm, and there are clusters of 5 holes with the following diameters: 2µm, 5µm, 10µm, 20µm, 50µm, 100µm, 200µm
The biggest holes are even visible in this picture. Within a cluster the distance between the holes is 0.6mm for the 200µm holes, and 0.25mm for all other holes.
There are also thick lines in the Chrome layer, which make it easier to find the small holes.
Normally we need only one hole of each size, but it's a good idea to have several of them, just in case that a piece of dust makes a hole unusable.
The PDI plate is mounted on an Aluminium plate by two drops of silicone glue.
Right of the PDI plate you see the laser diode, which is mounted as close as possible to the PDI plate to minimize off-axis errors. There is no optics in front of the laser diode, so that the mirror under test is illuminated evenly.
Which hole diameter to use depends on the focal ratio of the light cone (not the focal ratio of the mirror under test). The diameter of the hole must be smaller than the diameter of the Airy disk: D < 2.44 lambda N
where lambda is the light wavelength (here 650nm) and N is the focal ratio of the light cone.
The same formula applies to the maximum size of the light source.